This post is also available in: 日本語 (Japanese)
Hello! I am Yasuhiko, the owner of this website. This site allows baseball team managers and coaches around the world to discuss all things baseball.
It's easy to access information about professional and university level baseball over the internet and TV, but not so much about baseball teams under 18 years old.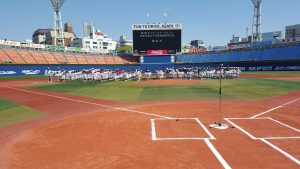 Working in children's baseball for over 30 years, I've found out that getting information about it isn't easily accessible.
I invited my good friend Peter Caliendo, Former USA Baseball National Team Coach and World Baseball Softball Tournament Committee Member , to help managers and coaches from around the world to exchange information about baseball, whether it's finding a solution to a problem or to boast about a victory.
 We currently operate in Japan and the U.S., but hope to share this experience worldwide.
 We would like to hear your opinions, as we strive to unite children's baseball all over the world as.